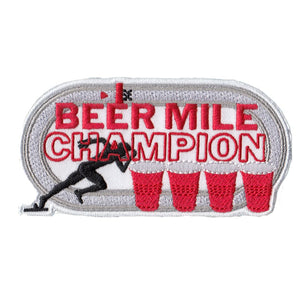 Race Day Rangers
Beer Mile Champion Patch
Regular price
$10.99
$0.00
Unit price
per
The Beer Mile: 4 beers, 4 laps, 1 victor.
A beer mile is a foot race that involves drinking a beer and running a quarter-mile lap four times in a row. The rules of the beer mile vary, but typically, participants must drink a full beer (usually a 12-ounce can or bottle) before starting each lap, and they must complete the entire lap before starting to drink their next beer. The race combines elements of speed, endurance, and alcohol consumption, and it is often done as a fun and informal competition among friends or as a more formalized event in some running communities.
The beer mile can be a humbling endeavor, one that leaves even the fastest of winners still feeling like they lost. 
It is worth noting, however, that participating in a beer mile can be dangerous and is not recommended for individuals who are not of legal drinking age or who have health conditions that may be worsened by alcohol consumption or exercise.
This die-cut embroidered patch is approximately 4"x3" and is made with an iron or sew-on backing. 
---
Share this Product
---